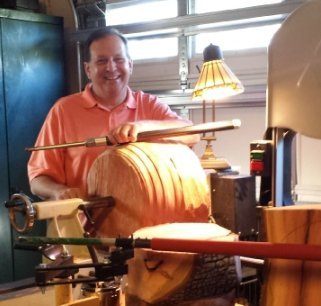 Dan Lague
Dan Lague began his woodturning adventure in 2007. He started with encouragement from his wife, who partnered with him to take a class and is his best inspiration.
His passion grew by attending monthly meetings at the Palm Beach County Woodturners club. Interacting with the meeting members; attending numerous demos; conferences and professional class demonstrations and of course through practice, practice, practice; Dan has learned techniques that are exemplified in his turnings. Working and exchanging woodturning knowledge with others adds value to his craft.
There is great pleasure in taking a log and creating a one-of-a-kind design and is something he thinks everyone should experience at least once. Dan finds the entire continuum of woodturning from making his own tools to applying the last coat of lacquer, to displaying the finished turnings. He has produced a wide range of items such as urns, spindles, bowls, hollow forms, segmented pieces, pepper mills, and other household items, ornaments, birdhouses, etc. Stepping outside the norm, Dan often adds unique elements such as free-form wood-burning and carvings to his finished object. His pieces can be found in private collections and are often used as donated items for causes dear to him.
Dan is a longstanding member of the Palm Beach County Woodturners and is currently their acting president. He lives in Florida with his wife and daughter. He is thankful for their everyday love and support which provides him the time to grow and explore his passion for woodturning.